New Living Green Roof for the Administration Building
France-Merrick's Transformative Gift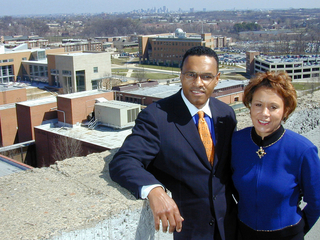 To: The UMBC Community
From: President Freeman Hrabowski
I am delighted to announce that the France-Merrick Foundation has made a $1 million gift to UMBC to fund the transformation of our Administration Building's rooftop into a "green roof." We are grateful for France-Merrick's support of our commitment to sustainability on campus.
The green roof will be an important symbol demonstrating UMBC's campus-wide dedication to sustainability practices. In addition to helping to insulate and reduce heat loss, the green roof will provide protection that extends the life of the roof.
France-Merrick's gift includes support for annual France-Merrick Sustainability Interns, who will serve as liaisons for environmental sustainability and climate change educational and awareness programs across campus. We look forward to exploring possibilities for future teaching and research opportunities reflecting UMBC's commitment to sustainability.
Our inaugural France-Merrick Sustainability Interns are Andrew Brow '16, mechanical engineering, and Devaughn Jones '18.
The following members of the campus community serve important roles as advisors for the green roof project: Joe Rexing, director, planning and construction services; John Zahor, project manager, planning and construction services; Claire Welty, director and professor, Center for Urban Environmental Research and Education; Andrew Miller, professor, geography and environmental systems; Elyse Ashburn, chief of staff, president's office; David Gleason, general counsel; and Tanvi Gadhia, environmental sustainability coordinator.
We are now in the project's design phase. Construction is scheduled to begin in spring 2015 and should be completed by fall 2015. We will keep the campus informed as the project develops.
For more information, please contact Greg Simmons at gsimmons@umbc.edu.